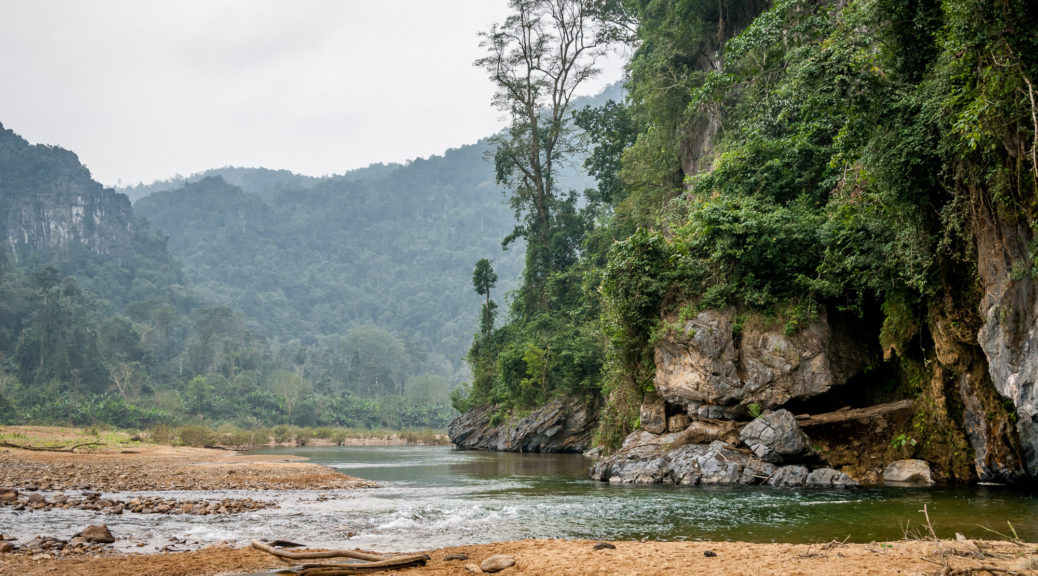 Cave Trekking in Phong Nha National Park
Cave Trekking in Phong Nha National Park
Two weeks ago  Dan and I embarked on the most challenging and rewarding adventure of our trip thus far: cave trekking in Phong Nha National Park.  Right around when we started doing research for our trip to Vietnam a girl I knew in college posted on Facebook that she was heading to Southeast Asia and asked the social media universe for advice on what to do when she got there.  One of her friends commented on her post recommending an overnight trek through Phong Nha National Park to Hang En Cave, the third largest cave in the world.
I happened to see this post while mindlessly browsing the internet and it immediately caught my attention.  The description sounded incredible so when we got to Vietnam we agreed that this experience deserved a spot on our itinerary.
We took a bus from Hue to Phong Nha and spent one night in Phong Nha town (basically just a gateway to the park) before being picked up by our tour company the next morning.  We went to the tour office to get oriented and to meet our fellow trekkers, ten of us in total along with our guide and two porters who helped carry our belongings and made sure we didn't fall in any rivers. From there we set off on an hour drive into the park to the trail head where we would start our 11km hike to the cave.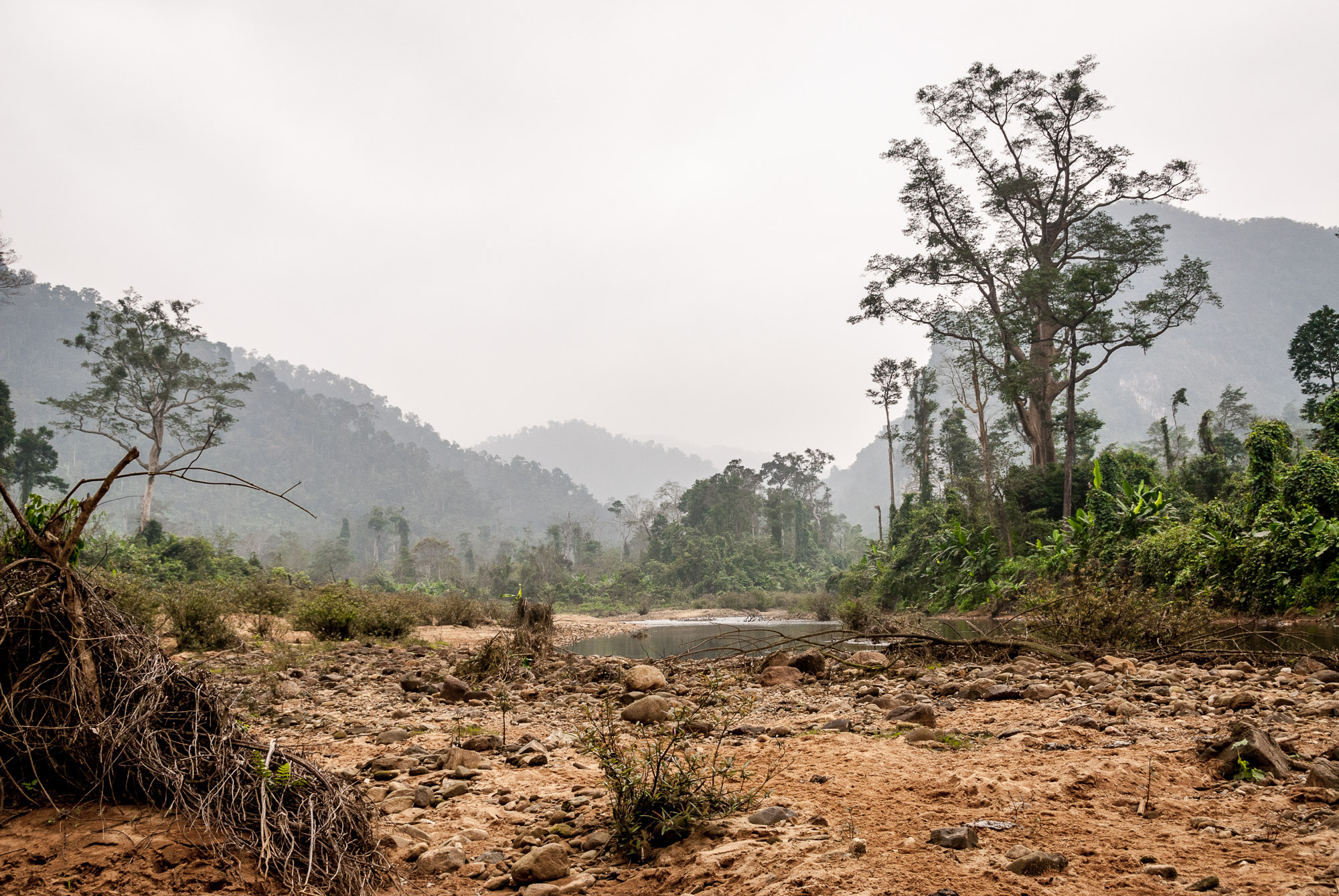 They had warned us that the first couple hours would be straight down a muddy, slippery hill.  Despite the warning I was totally unprepared for how strenuous this down hill portion ended up being. We were immediately stepping in mud up to our ankles and grasping at tree branches and roots in order to stay upright as we gingerly made our way down.
Miraculously, we made it to the bottom after only a few minor slips and made our way to a village nestled in the jungle where we stopped for lunch.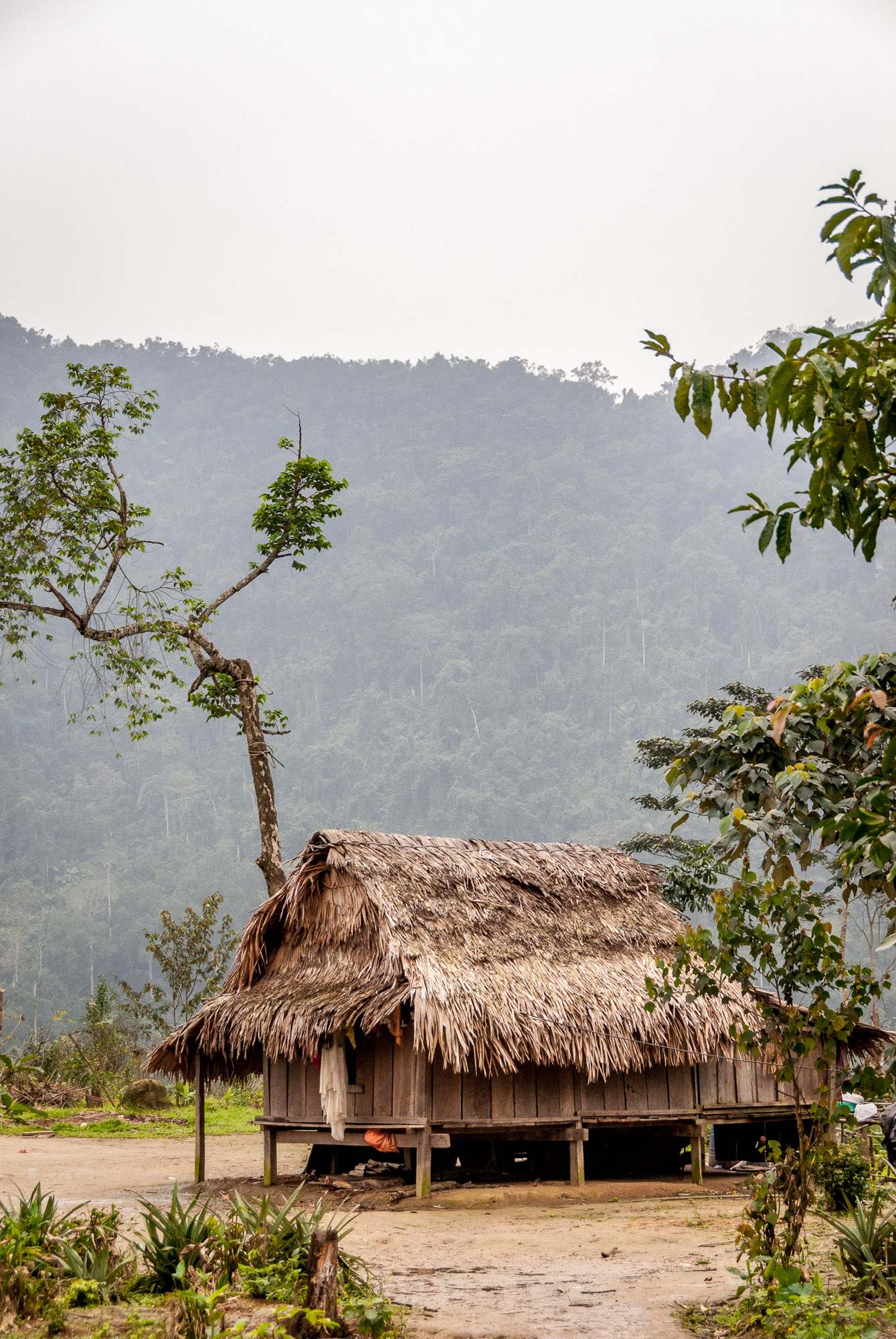 The rest of the trek was thankfully flat but it did involve wading across rivers, some up to our thighs.  We quickly learned to follow the porters, rather than our guide, on these crossings as they are locals and always seemed to know the shallowest places to cross.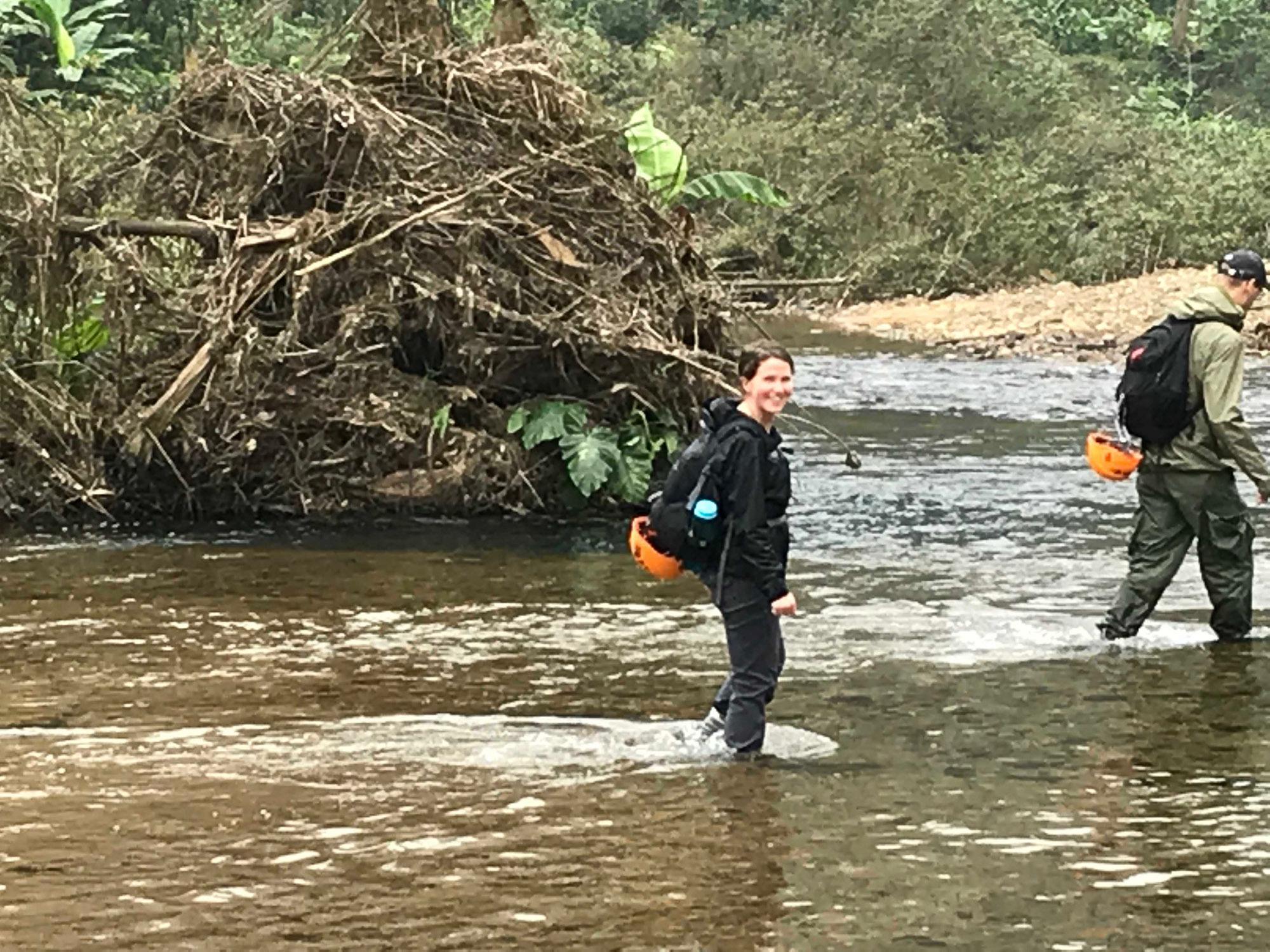 Finally, after several more hours, we got our first glimpse of the cave entrance.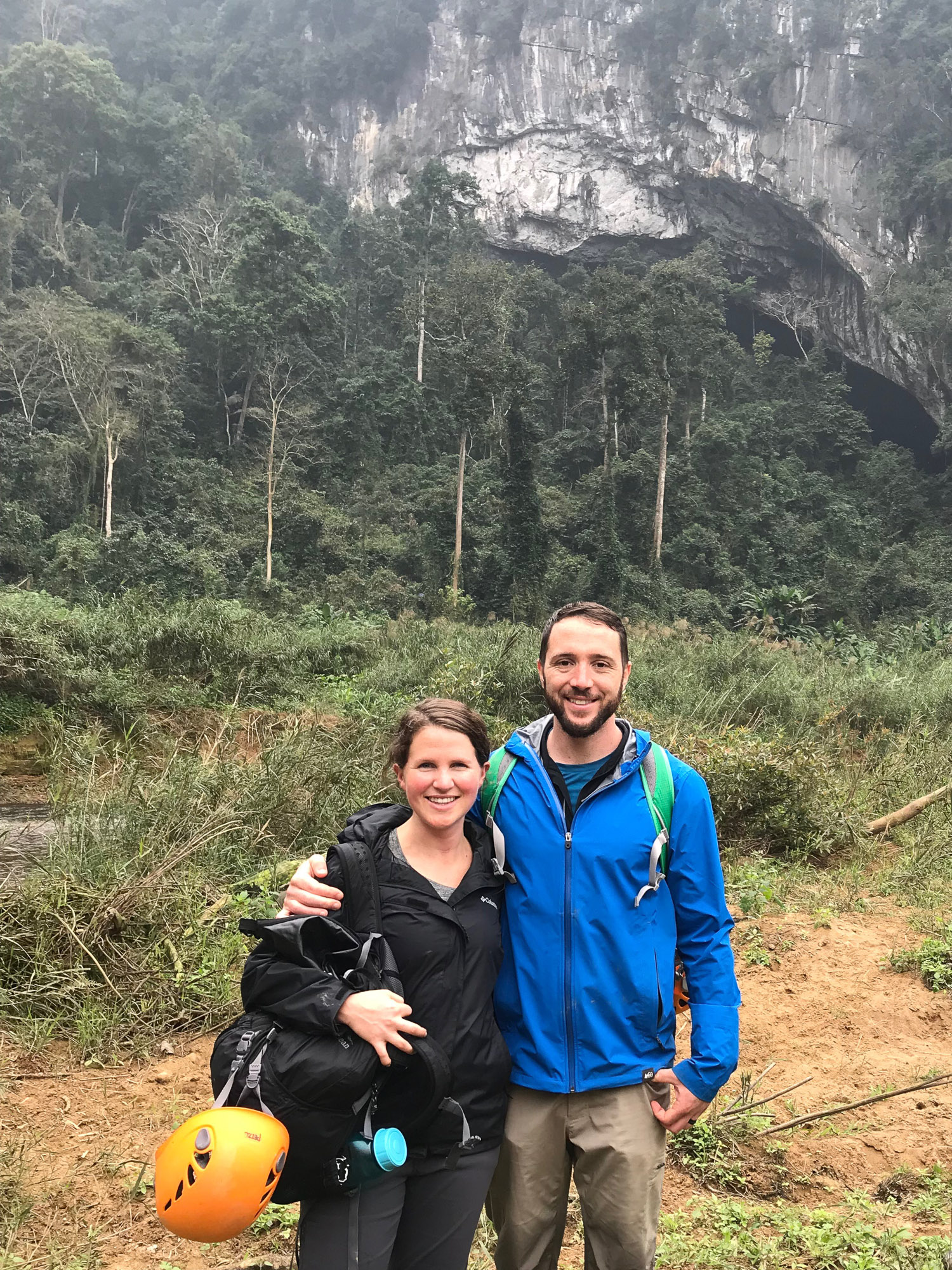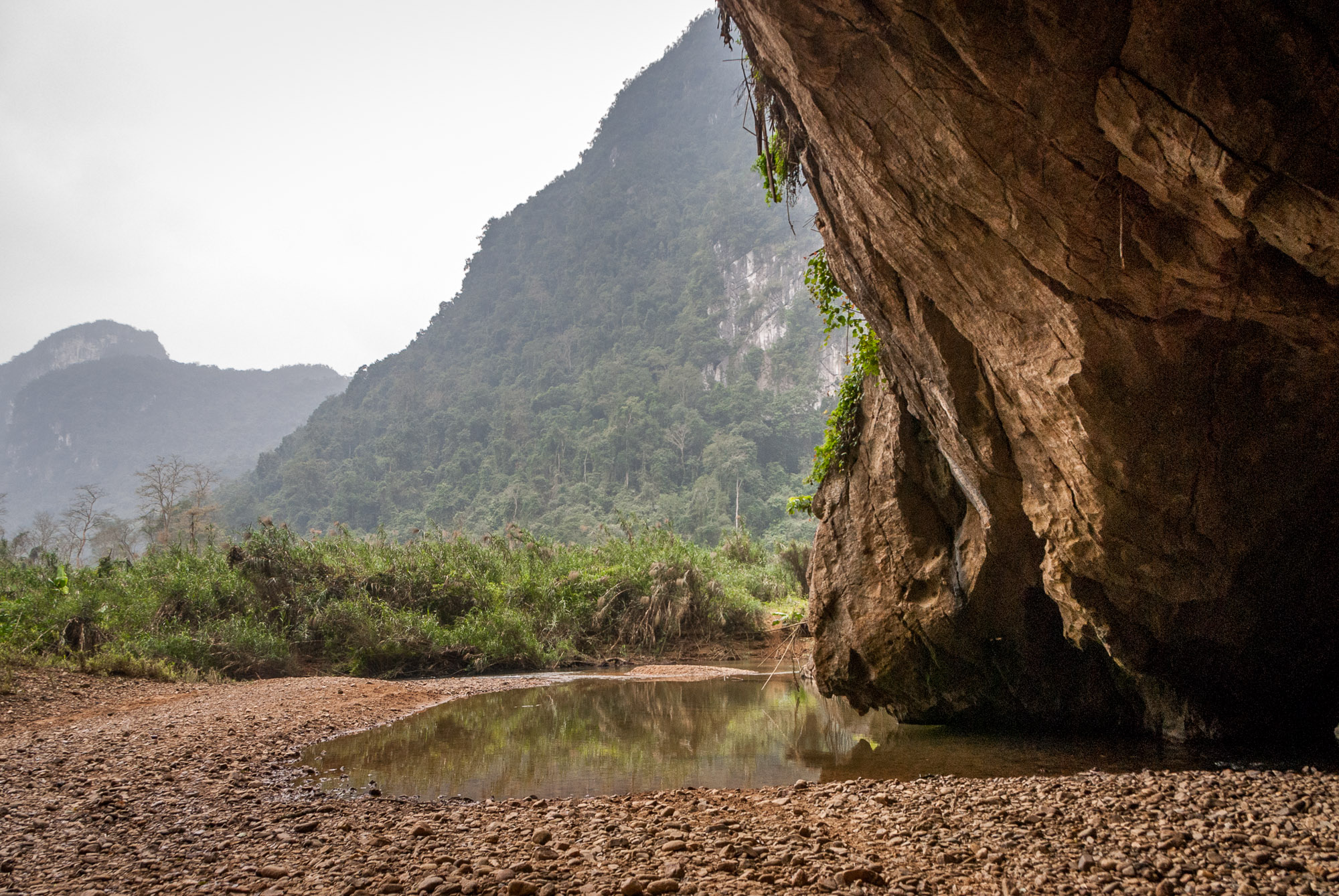 However, just because we had made it to the cave didn't mean the hard part was over.  In order to actually get to where we would be camping we had to spend another hour climbing up (and then down) a huge pile of rocks.
When we finally got to the top we got our first glimpse of our camp below.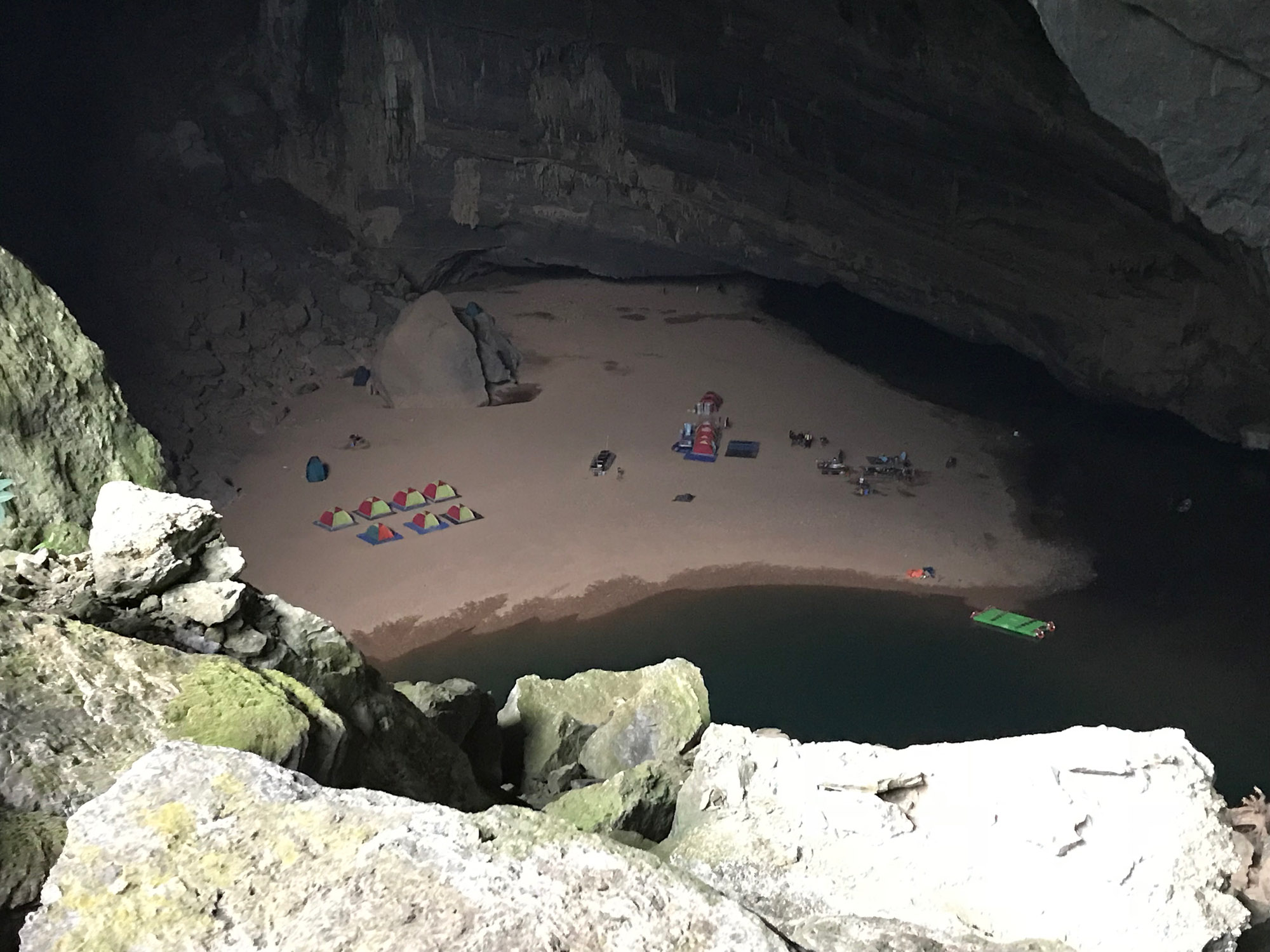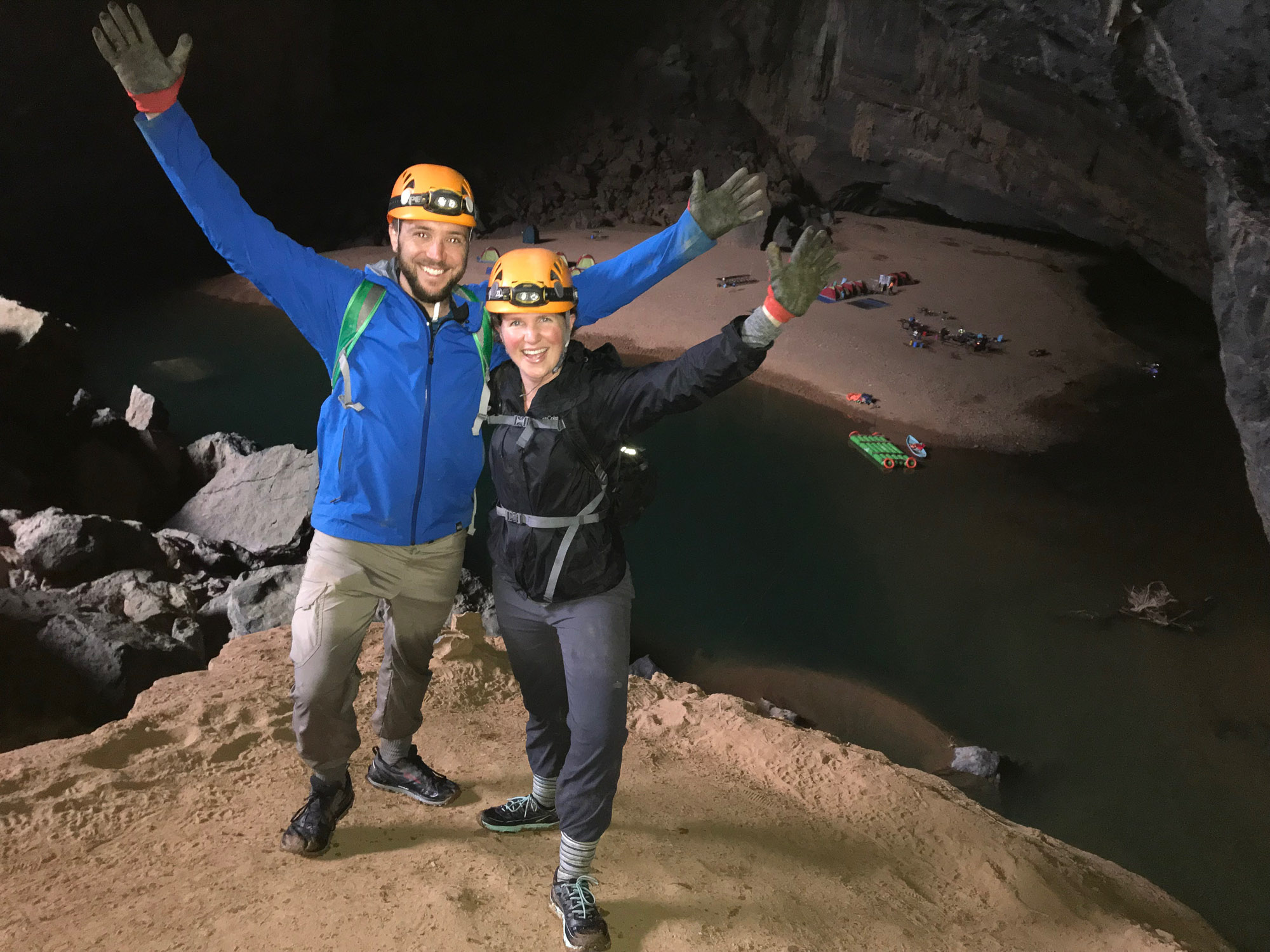 After the precarious climb down the rocks we reached our camp where we were able to hang up our soaking wet clothes, take a quick dip in the icy river that runs through the cave, and settle in for a delicious dinner prepared by the tour staff.
The next morning we got to spend two hours exploring the cave.  Unfortunately photos do not capture how massive the cave is and the amazing feeling of being inside such a space.  We climbed up another massive rock pile behind our camp and on the other side found a totally different space, filled with stalactites and stalagmites.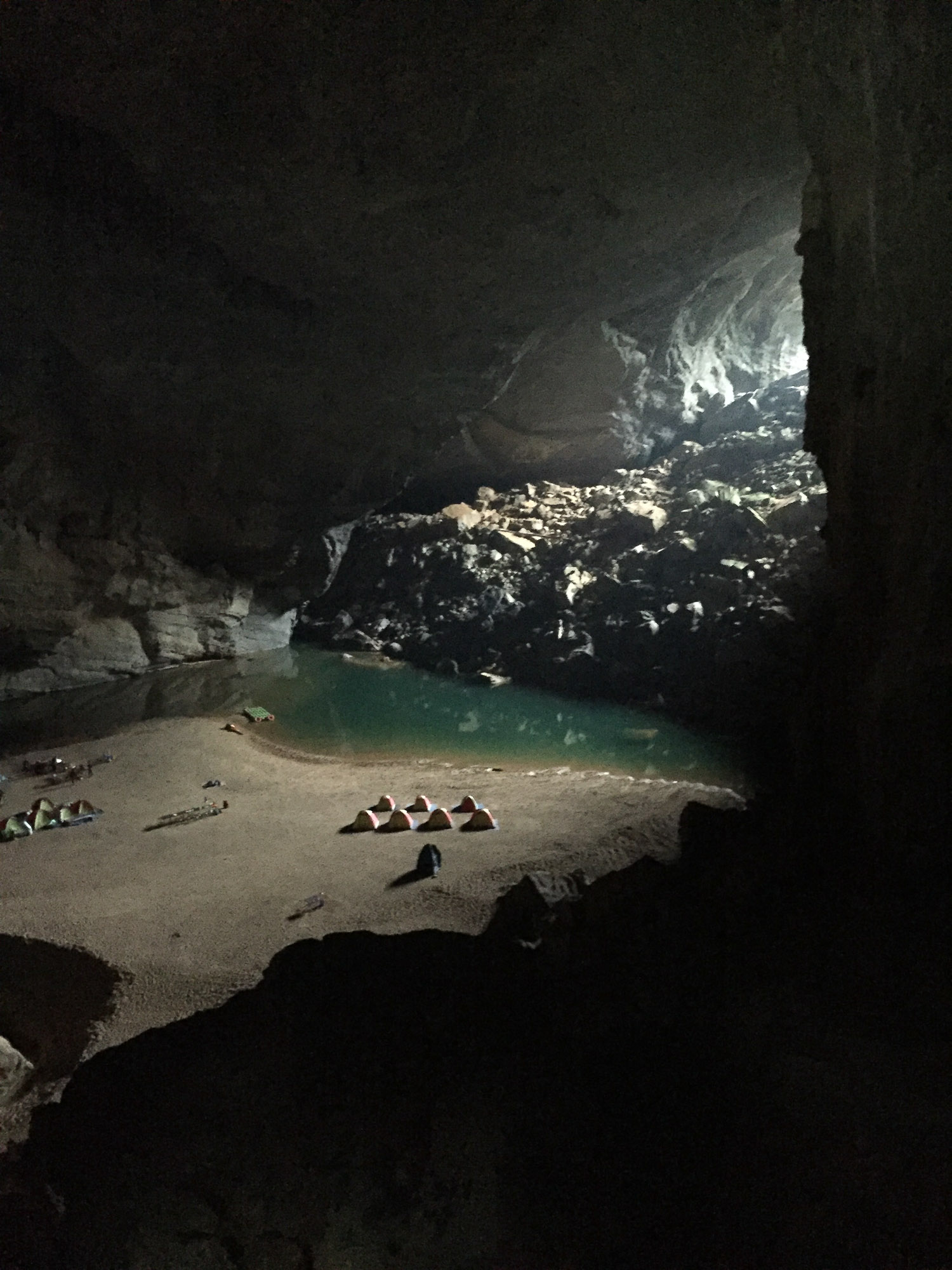 From there we made our way around to a different cave entrance where we encountered one of the most aw inspiring views I've ever seen. It looked like something out of a fairy tale and I still can't believe I got to see something like this in person.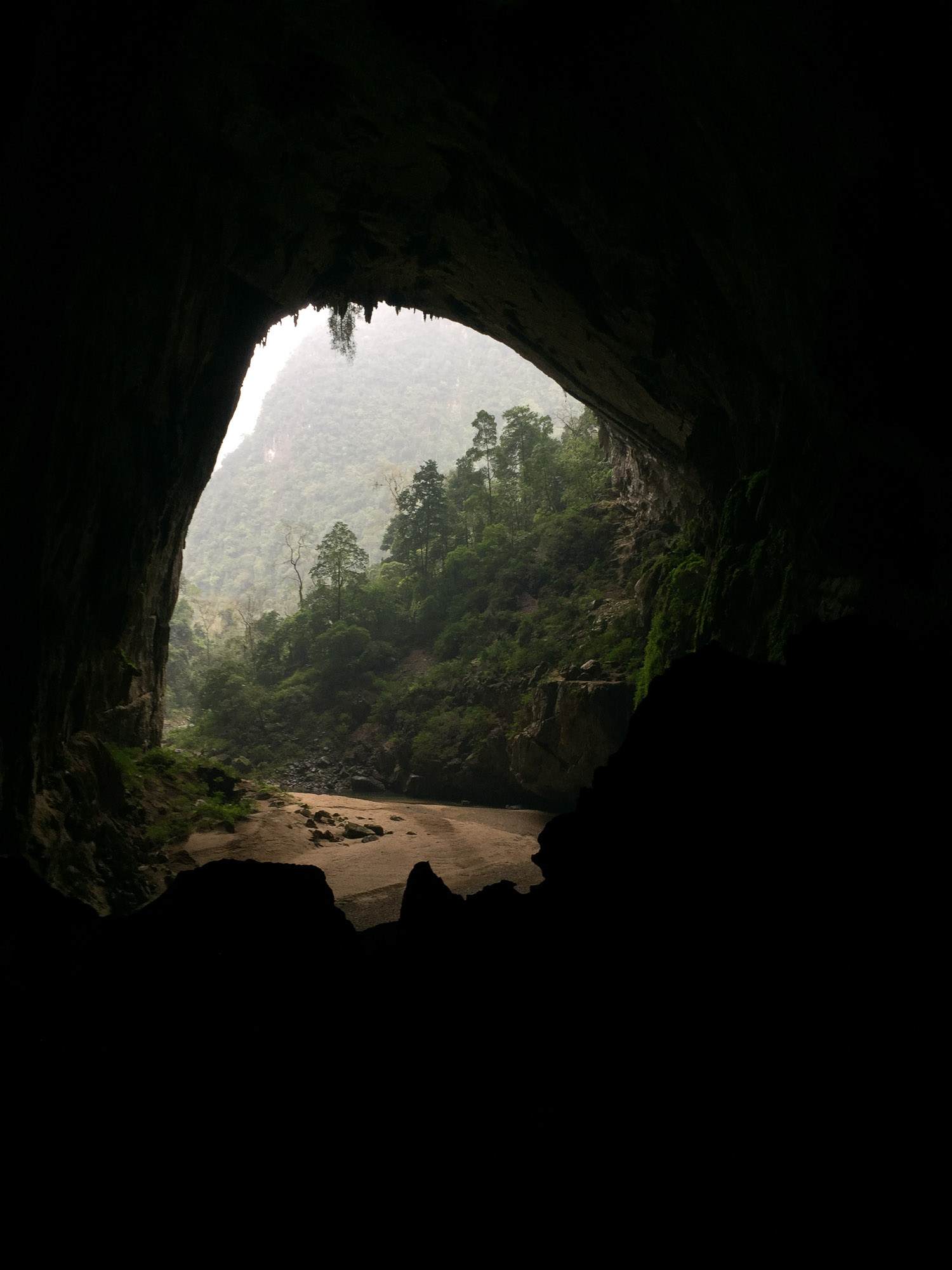 My only regret about the trek is that I left my better camera at camp that morning.  I was too worried about breaking it as we climbed up and down the rocks so iPhone photos will have to suffice.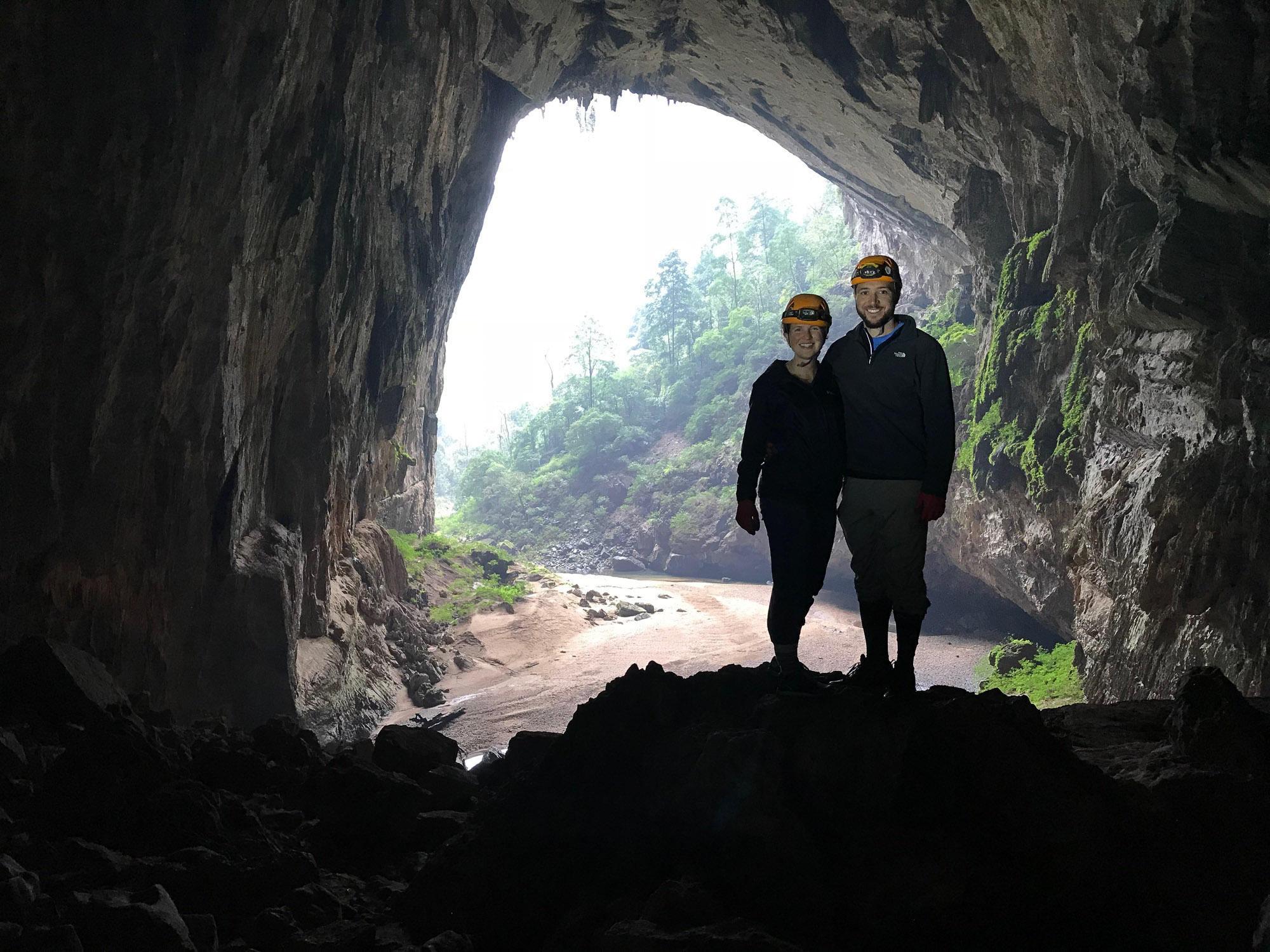 The trek back was at least as physically challenging as the way there, this time due to the physical exertion of climbing back up the muddy hill that we had slipped and skidded our way down the day before.  And, of course, it started to rain just as we got to the steepest part.  However, after several more hours we made it safely to the top where we were picked up and shuttled back to town.
I have been thinking a lot about this experience over the past couple of weeks and how to best document it here.  To say that it pushed me out of my comfort zone would be a mild understatement and there were times when I was completely terrified and questioned my ability to make it through in one piece.  But the combination of completing such a physically challenging endeavor and getting to experience a place so awe inspiring made me feel empowered in a way that is hard to describe.
I will finish by saying that if you ever get a chance to do this trek I would HIGHLY recommend it.  The tour is organized through Oxalis Adventure Tours.  Their staff are amazing- they carry all of the supplies needed for our camp (tents, cooking equipment, drinking water, food, etc.) in on their backs! The trek was a little expensive, especially for us unemployed backpackers, but totally worth it.